As a lively children's entertainer performing in Oahu and one of the favourite Hawaii magicians, my humor, great warm energy and smile will surely keep your guests in a festive mood and well entertained. I also have strolling magic, balloons twisting, sounds and emcee services as part of my packages. Prepare yourself for an entertaining evening of fun, magic and laughter!
Mr. O, Thank you for helping to make my 1st birthday celebration a memorable one! I will always remember you." -Chloe and parents, 1st Birthday

My name is Harvey "Mr. O" Ouchi and I was born and raised in Pearl City, Hawaii. As a magician entertainer, I love to perform closeup magic, stage magic and comedy magic. One of the favorite Hawaii magicians, I love doing children shows, especially first birthdays. But I also love performing for adults and just about any occasion including graduation parties, retirement parties, company parties and other special occasion parties when not doing first birthdays. The first time I started in magic was in 1993 and am currently an officer of both the International Brotherhood of Magicians (IBM) and Hawaii Magicians Society, IBM Ring #185 and the Society of American Magicians (SAM), Hawaii SAM Assembly #89. I am very well-known in the magic community and have a great reputation among Hawaii magicians.
Pay close attention to this talented magician. He has the same joy in his eyes that Doug Henning had when he performed. Mr. O authentically enjoys the magic more than his audience. Prepare yourself to feel the wonder you used to feel when you were a kid and to exercise your smile muscles in Mr. O's presence." -Jim Magnola, former Manager to the late world famous Master Magician Doug Henning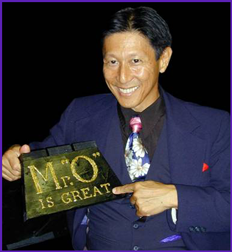 I grew up in Pearl City, Hawaii, graduated from Waipahu High School and hold a Masters Degree in Education from the University of Hawaii before becoming the a children's entertainer. I worked for the Department of Education for many years as a teacher, counselor, vice-principal, principal and educational specialist.
Best Regards,
HARVEY OUCHI