What other types of magic and events does Mr. O do?

Besides stage magic, Mr. O, the magician Hawaii loves, also enjoys performing close-up magic and parlor shows for events such as retirements, birthday for adults or teens of all ages, graduations and corporate events on the island of Oahu and sometimes neighbor islands also.
Types of Magic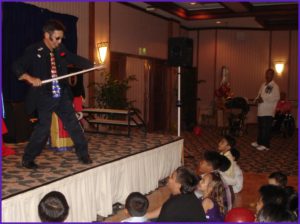 Close–up magic or table magic is stage magic performed in an intimate setting usually no more than a few feet from one's audience and is performed while the audience is sitting or standing (strolling magic). This type of magic usually combines sleight-of-hand manipulations. Close–up magic typically uses common household objects such as cards, coins, handkerchiefs and more.
Mr. O was perfect for my mom's 100th birthday celebration. He was able to entertain the young and old and everyone had a grand time with much laughter. The children were in awe with his table magic . . . lots of oooo's and ah's. He had children and adults participating which was fun. Thank you Mr. O for a fun time . . . you made the party extra special." -Pearl, Waikele Country Club

Platform magic (also known as parlor magic) is magic that is done for larger audiences than close-up magic, but for smaller audiences than stage magic.
Hey Harvey, thanks sooo much for the show. It was great! We all had a great time. You were fantastic and so funny! I'm gonna tell Doris to take her kids too. Her sister lives in Kailua and that's where they stay so shouldn't be that hard to make the show. It was so much fun. Thanks too for calling them up. They were so thrilled. They are natural hams!! Part of the grandfather's traits. ha! Lynne and Jim had a great time too. Was soo much fun. Do you guys have a comment space on your website? Gotta tell everybody!! Anyway, thanks again." -Joan Kealalio, Koolau Magic Theatre
Types of Parties
First birthday parties
As you can tell, first birthdays parties for Hawaii magicians and families are a big deal. A First Birthday luau is a way to kick off a long and healthy life, as well as, another reason to enjoy good food and great company. Most children didn't live to the age of one due to a lack of the medical knowledge back in the "old days."
Celebrating the first year in a child's life in Hawaii is a milestone many local families honor and look forward to sharing close friends and relatives. It is not unheard of for parents to invest in festivities that rival many extravagant and expensive weddings.
We met with Harvey Ouchi about the possibility of hiring his company to perform at our daughters first birthday party. Mr. Ouchi was thorough in his explanation of the services we would be purchasing and very friendly. His professionalism on knowing what to mention to first time clients was invaluable and set him apart from the others we had interviewed. At the party, Mr. Ouchi arrived early, was very professional and went out of his way to ease our stress and support with the children. During the event, we experienced "peace of mind" knowing the Mr. Ouchi was performing and supporting us in all facets of the party. At the end, Mr. Ouchi was gracious enough to entertain outside the prescribed times and his energy was amazing. My family and all of our guests had high praise for Mr. Ouchi and his company. I would recommend Mr. Ouchi for any function where you want high energy, top notch entertainment and professionalism that is rarely seen these days in entertainers!" – Ben Hilger and Leigh Ann Nakai, Natsunoya Teahouse, First Birthday party
Birthday parties for adults, teens and all ages by Mr. 'O', the Magician Hawaii loves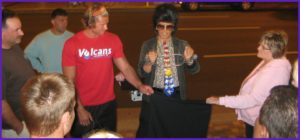 Mr. O – Thank you for making Daniel's birthday a day he will remember for a long time. You kept all the kids wanting more. I think it was a success and we hope to see you again and again." – Diane
Graduation parties
Mr. O performed at my daughter's graduation party and he was such a hit. We had almost forty teenagers and they were all mesmerized as they watched Mr. O's magic. I don't want to give away the show, but the pick a card trick had taken a remarkable turn of events when Mr. O asked the audience to choose a random card and rather than just picking that card, Mr. O threw the cards in the air and stabbed one card with his magic knife. Behold, it was the random card. My daughter's party was hailed as the best graduation party they have ever been to because of Mr. O." – Lorene, Graduation Party
Corporate event
Mr 'O', the Hawaii magician you can trust, is great for a gathering that is sponsored by a business for its employees, business partners, clients and/or prospective clients. These events can be for larger audiences such as conventions or smaller events like conferences, meetings or holiday parties.
I recently had a corporate event with 20 professionals and wanted to "wow" them with a new and different experience! I had seen Mr. O perform at events like keiki birthdays and community events and absolutely loved his charisma with his audience and his talent at bringing great entertainment to a party! I couldn't wait to book him for my event! As expected, he delivered an awesome magic show performance that had full grown adults in stiches from laughter and amazement from his skill set. He is not only very charismatic but also knows how to adapt well to his audience. I would highly recommend inviting Mr.O to be a part of any party for people of all ages to enjoy! We had a blast with him!" – Mauri
Retirement parties
For people who are at the point in time when they have chosen to leave his or her employment permanently and are eligible to collect retirement resources such as Social Security, or a company pension, or another retirement plan. However, this can be a celebration for people who are transferring to another position or those that have just been promoted.

Special events
Mr. "O" stands for Only the Best! Under a pending storm, he still managed to "Wow" the children as well as the adults at our Annual Christmas party at the Marco Polo. The balloonist was great with the kids, too! Sorry folks, we already got him booked for next year!" – Linda, Marco Polo Management, Annual Christmas Party