Magic Show Party Entertainment in Hawaii

Mr 'O' provides dependable and professional party entertainment Hawaii, Pearl City and areas in Central and Leeward Oahu can trust. I provide kids entertainment for birthday parties, specialising in 1st birthday parties and events where the focus is on entertaining children.
Mr. O – Thank you for making Daniel's Birthday a day he will remember for a long time. You kept all the kids wanting more. I think it was a success and we hope to see you again and again." -Diane, Party for 4 years old

Kids party entertainer in Hawaii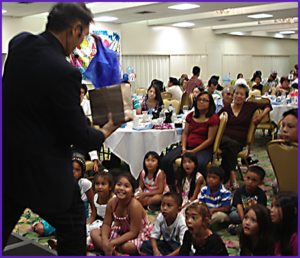 You get the benefit of 30+ years of experience as an educator to enhance the party entertainment of the children and adults at your event. I began in magic while a vice-principal at Leihoku Elementary School in Waianae. I grew up in Pearl City, Hawaii and have been a teacher, counselor, administrator and educational specialist for the Hawaii Department of Education before becoming doing party entertainment Hawaii now knows and loves.
My lively performances, humor, great warm energy and smile will keep the birthday star at the centre of the attention and all your guests in a festive mood and well entertained. Prepare yourself for an unforgettable experience of fun, magic, music and laughter.
Mr. O helped make my daughter's first birthday party a special one. He was very easy to work with and his experience helped us plan the day. It was convenient to have him provide entertaining magic, balloons for the kids, and the emcee for the program. The guests commented on how amazing his card tricks were and enjoyed the magic show with audience participation. Everything went smoothly and the room was filled with smiles and laughter. Thanks Mr. O" -Kristen 1st birthday

I have 3 birthday party entertainment package to choose from: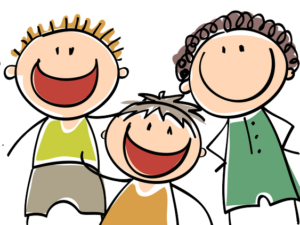 Small Package Combo: (Reserved for small house parties only)
Magic Parlour show (30 minute magic show with audience participation).
$225 Great bargain!
Silver Package:
Full Stage magic show (40 minutes) with comedy, magic and audience participation. Includes sound system for the stage magic show only.
You will get a great stage show along with a sound system so the entire audience can see and hear the performance!
$400
Gold Package

(DISCOUNT SPECIAL PACKAGE OFFER!) (BEST VALUE! LIMITED TIME DISCOUNT SPECIAL)
$680 for all Gold Packages:
Includes Silver Package ($400 value), plus emcee ($150 value), 2 hours of animal balloon twisting ($200 value), excellent sound system (4 hours, $300 value) and 1 hour of Walk around magic preshow ($150 value) = $1200 value.
Special price offer for the Gold Package is for a limited time only. If anyone can beat my price and maintain the QUALITY of my services, they deserve the gig. My reputation is my guarantee of satisfaction! Check out the testimonials. Other services available upon request for additional costs (e.g., face painting, etc.). No need to shop around. This package has everything you need.

I also perform other types of party entertainment Hawaii families can enjoy, including closeup, stage magic and comedy magic with audience participation for small groups, as well as, large audiences.